On May 15th NYO3 held its GLOBAL BRAND CELEBRATION in Oslo. In a prestigious ceremony the brand was recognized for its dedication to traceability and responsible sourcing in the krill oil industry, being honored with the ORIVO Commitment Reward!
The event celebrated NYO3's unwavering commitment to authenticity, traceability, and responsible sourcing, highlighting its dedication to setting industry standards for quality and transparency. NYO3, a frontrunner in the B2C krill oil supplement market, has partnered with reputable krill fishing companies that adhere to strict guidelines for harvesting quotas, minimizing bycatch, and protecting critical krill habitats. By procuring krill oil only from sustainable sources, NYO3 ensures its customers receive a high-quality product without contributing to overfishing or ecological damage. As the ultimate promise to consumers NYO3 has since 2020 applied the ORIVO origin verification program to all its krill oil SKUs, guaranteeing supplements consisting of pure krill oil from Antarctic waters.
However, committing to such practices on a one-time basis or for a shorter period of time – for instance in relation with a product launch or re-launch – is sometimes the approach for companies seeking short-time profit. On the contrary, by implementing this as a continuous verification, over years, companies can demonstrate their long-term commitment to sustainability, traceability, and responsible sourcing. This commitment goes beyond a one-time certification and shows that the company is dedicated to maintaining high standards throughout its operations.
That is why ORIVO decided to reward such responsible players from the industry with the newly launched ORIVO Commitment Reward, giving companies qualifying for the origin verification program for three consecutive years or more a reward logo and diploma. We chose to launch this esteemed recognition together with NYO3 due to the company´s outstanding efforts in adhering to sustainable practices in the krill oil industry. As NYO3 embraces this prestigious accolade, it reinforces the company's position as a frontrunner in the industry, providing consumers with trustworthy and sustainable choices.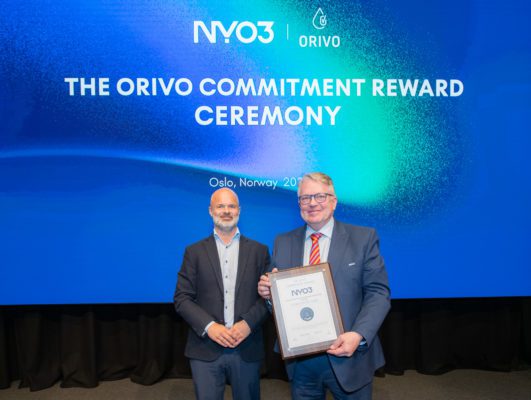 The ORIVO Commitment Reward not only recognizes NYO3's remarkable achievements but also serves as an inspiration for other supplement brands to adopt sustainable practices and prioritize transparency. As the demand for krill oil and other high valued omega-3 sources continues to rise, industry leaders must unite in their commitment to responsible sourcing, ensuring the long-term availability of these valuable marine resources.
The ceremony also provided an opportunity for industry professionals and stakeholders to engage in meaningful discussions on the future of the krill oil industry and supplements in general. Various speakers emphasized the importance of transparency, authenticity, health effects and sustainable sourcing, urging other brands to follow NYO3's lead and make conscious choices that drive the industry forward in a responsible manner.