"Jeg velger meg april" is a well-known quote from one of Norway´s most respected poets, Bjørnstjerne Bjørnson. It is from a short poem and means "I choose April". It is referring to the transition from the dark and cold Norwegian winter to the lighter and warmer spring and summer. Bjørnson is describing a month filled with action and optimism about the future. After attending various trade shows during this spring, I think Bjørnson´s feeling is somewhat similar to my own (post-show) feeling. Together with my great colleagues I have seen show floors re-filled with action and optimism about the future.
Seafood Expo, Barcelona – April
As Bjørnson, the Seafood Expo also chose April this year, and changed a year-long tradition by switching the hosting city from Brussels to wonderful Barcelona. The show was filled with claims and talks about the importance of origin and transparency. We found it especially compelling to hear Jayson Berryhill from (en)visible explaining how they together with BioMar are taking responsible sourcing to the next level. According to Mr Berryhill the key to ultimate trust is to put transparency on top of the agenda and to make supply chains more visible to customers and consumers. We are extremely proud to be providing this important evidence for BioMar´s supply chain transparency concept.

Check out our raw material testing
So, with all the focus on origin and transparency, it was great to be reminded that "origin matters" when passing a truck from one of the trade-show exhibitors (Vikenco from Norway) on our way back home to Molde: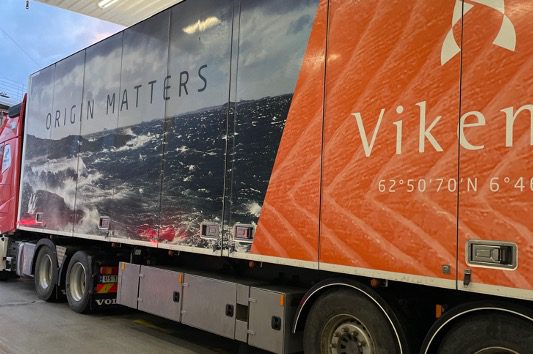 Vitafoods, Geneva – May
April turned to May, which brought us to two more trade shows, starting with Vitafoods in Geneva.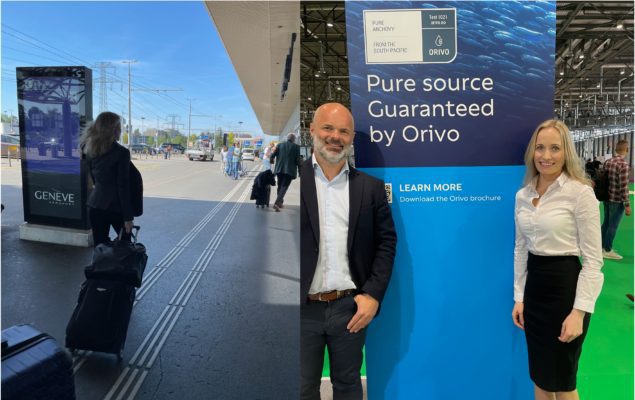 Palexpo was filled to the brim with eager exhibitors, and also here we found an increasing number of signs of an industry focusing more and more on traceability, origin and transparency: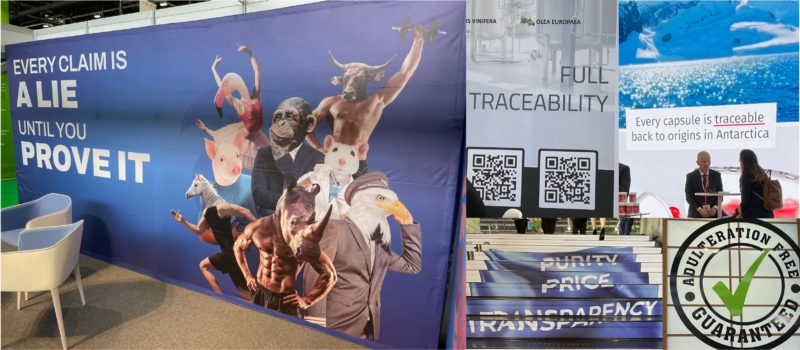 We found the phrase "Every claim is a lie until you prove it" highly interesting. Even though the company behind the phrase has a different approach (clinical trials to support label claims) it addresses the same problem as we are faced with: False label claims. And the importance of using science and testing as the fundament for label claims is just as high as it is when verifying claimed ingredients. Ironically, among all the other exhibitors we talked to, claiming either full traceability or transparency, or absence of adulteration, none could support this with evidence the way ORIVO can; Through actual product testing.
Reach out to certify your omega-3 products
Interzoo, Nuremberg – May
The month ended exploring one of ORIVO´s most recent business segments, a show floor in Nuremberg filled with an impressive number of vendors from all parts of the pet industry. At Interzoo, retailers and others walking the floor are exposed to everything a pet owner could need, such as high-end grooming articles, state of the art cat sands, a rapidly growing selection of dietary supplements for dogs and, of course, a universe of pet food products. We paid our closest attention to the latter category.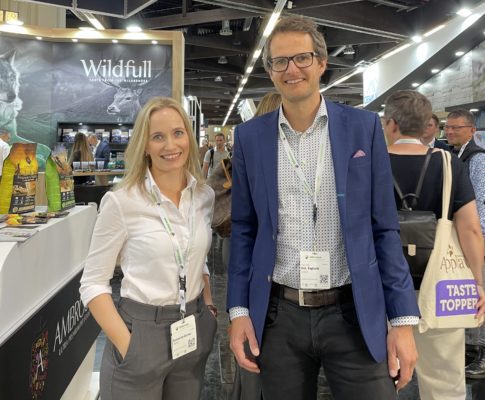 As the proprietary DNA-technology from ORIVO now is expanded to test and trace the protein source(s) in pet food, our main goal for the show was to explore a specific group of pet food products: Either products using a single source of protein or products meant for sensitive pets, claiming absence of certain protein sources. This is what we found:
At least 4 of 5 pet food brands at the show carried either a range of single protein sourced SKUs (Ex: pure salmon, pure duck etc.) and/or one or more products for sensitive pets (Ex: hypoallergenic, grain free, no beef etc.)
Almost all pet food exhibitors had a high-end product line with the main protein source named on the front label, many with the minimum content (percentage) indicated. (Ex: 85 % Salmon, 60 % Lamb etc)
However, in our opinion the most interesting trend is raw food. This also a pet food category focusing on a single protein source, minimally processed and as direct from the source as possible. This was clearly a category on the rise, compared to previous shows we have attended. Nature´s Food from Greece was one of many brands offering raw food at Interzoo:

At a show like this, exhibitors are there for selling their products and not for buying certification and testing services from ORIVO. Despite that, we got a tremendous interest for our services; Both to verify raw-material supplies with our testing technology and to use the ORIVO guarantee as a differentiating sales tool, especially for companies investing in raw materials of premium quality.
Learn more about our solutions for pet food
Trade show wrap-up
So, we have visited three categories of nutrition: Basic food, dietary supplements and food for our pets. In all of them we see a strong and growing focus on transparency about the origin of products. This is probably not a coincidence; it aligns very well with the growing trend among consumers to eat (and feed our pets) healthier and thereby have a growing need for proof. A proof for good health is hard to offer – and not ORIVO´s core business. However, a proof – or evidence – for claimed ingredients is possible, and this is definitely ORIVO´s core business. My personal prediction is that the evidence part will become even more important in the times ahead. The pressure on supply chains (and thereby the risk of fraud) is intensifying to levels never seen before, caused by both covid-catalyzed increase in freight costs, and war-related interference with the global supply chains.
The scene is set for evidence. And transparency. Evidence-based Transparency!
Svein Erik Haugmo – CEO, ORIVO
seh@orivo.no